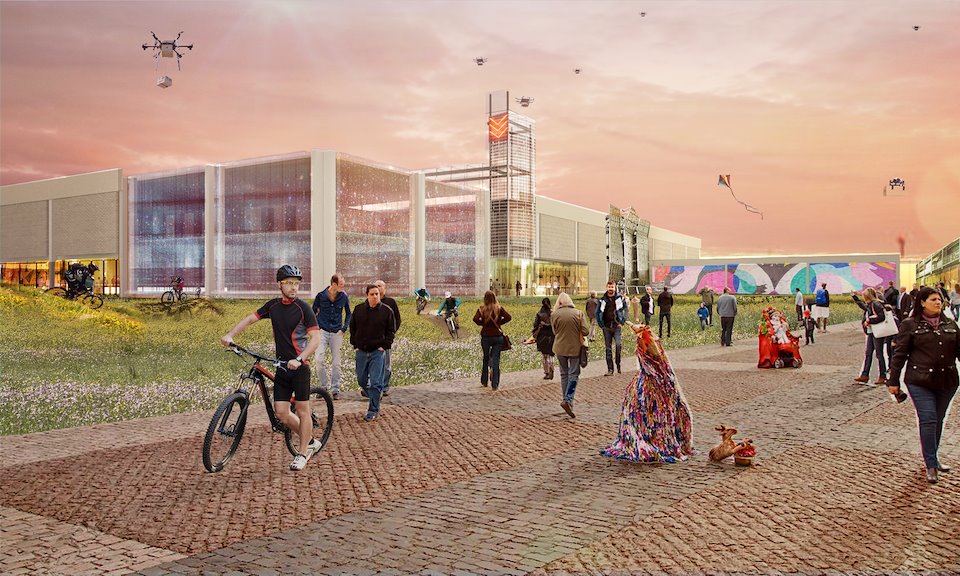 Exterior Render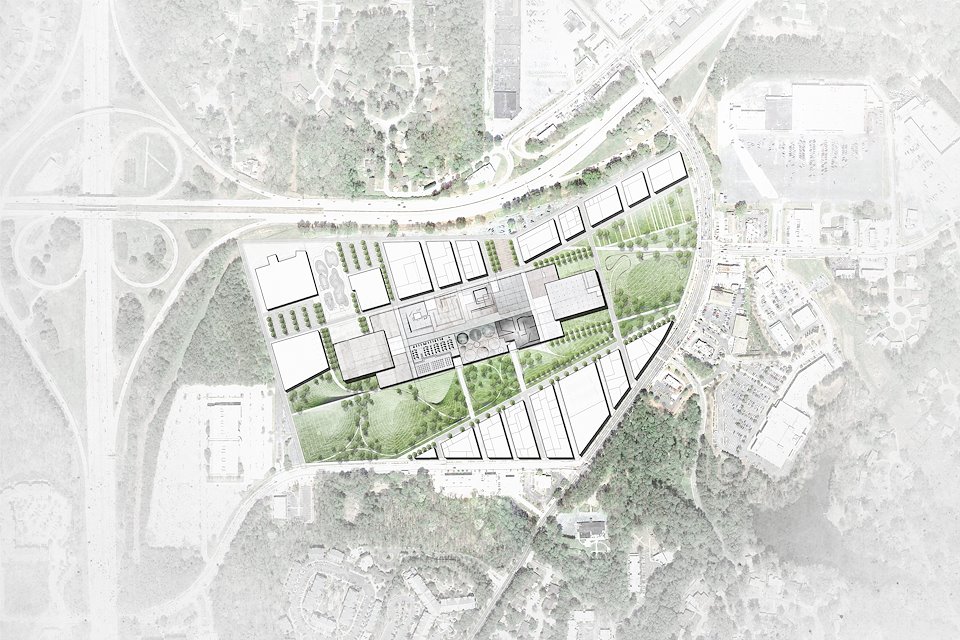 Masterplan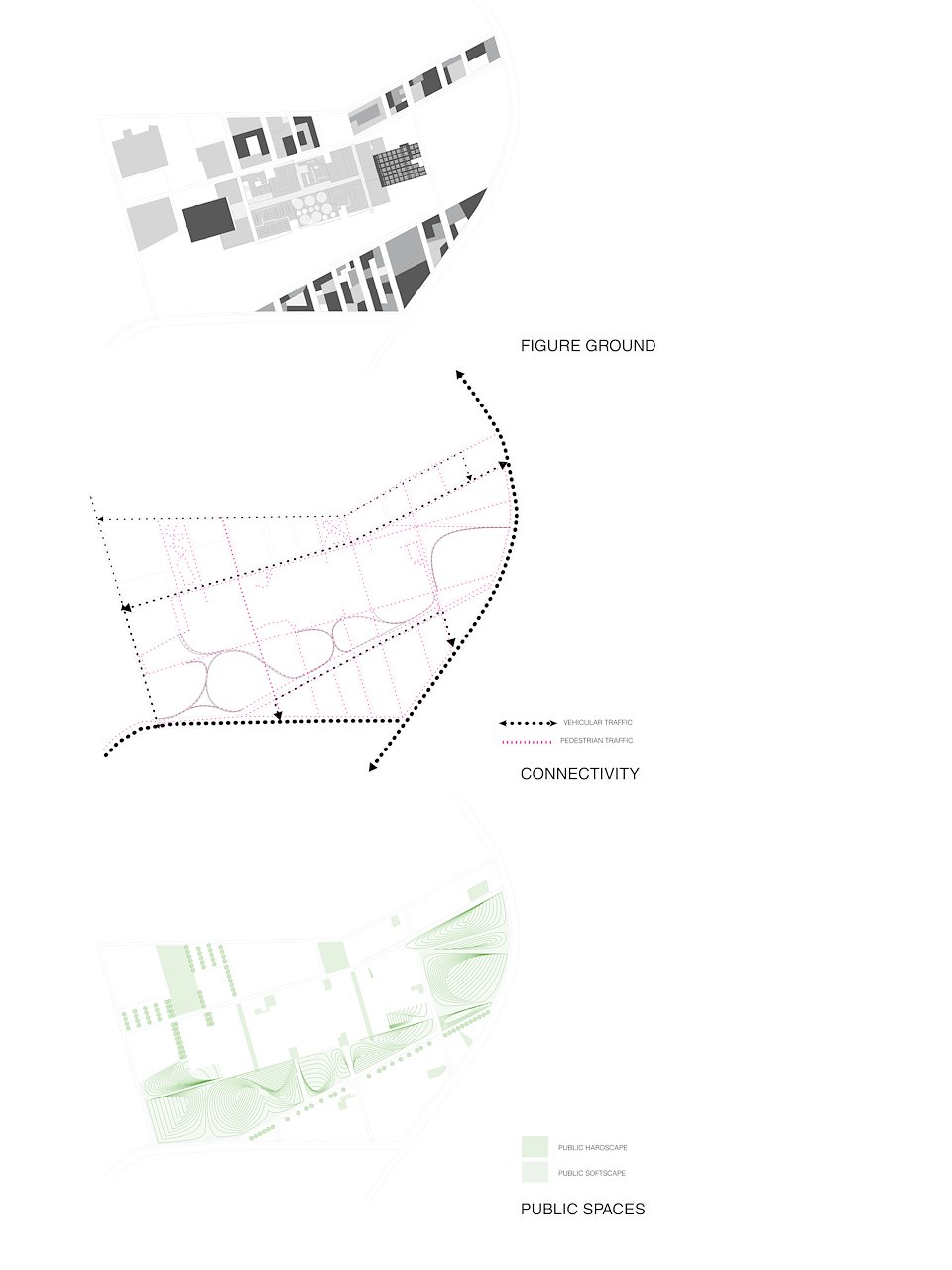 Site diagrams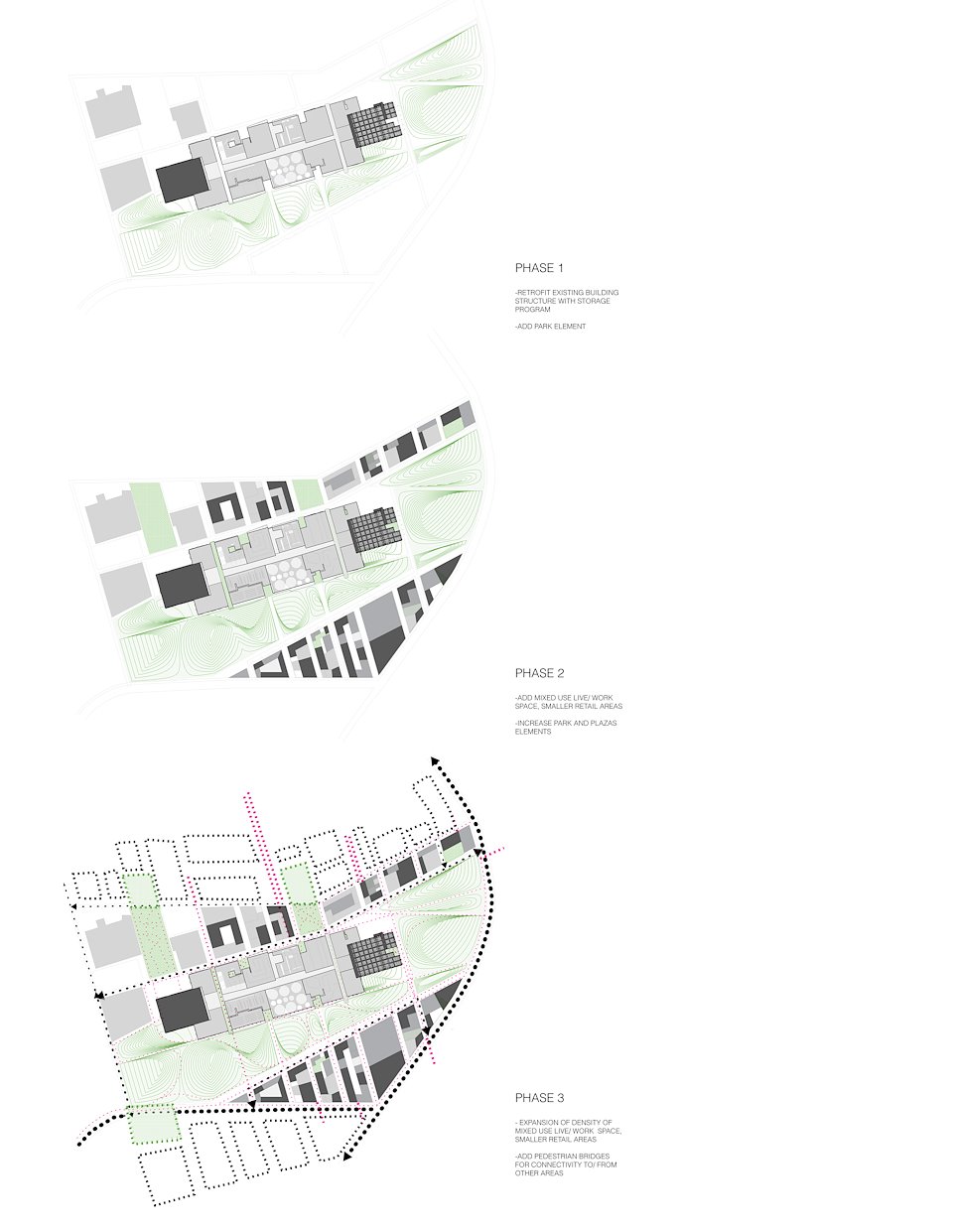 Phasing diagrams

Site Section through Data Center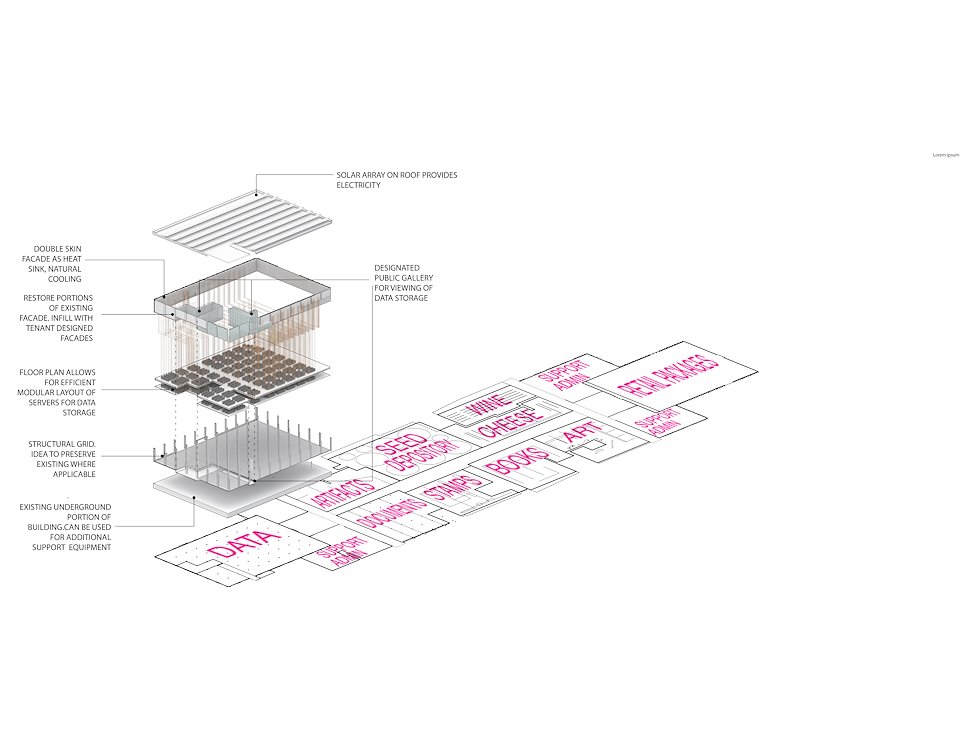 Plan-Axo diagram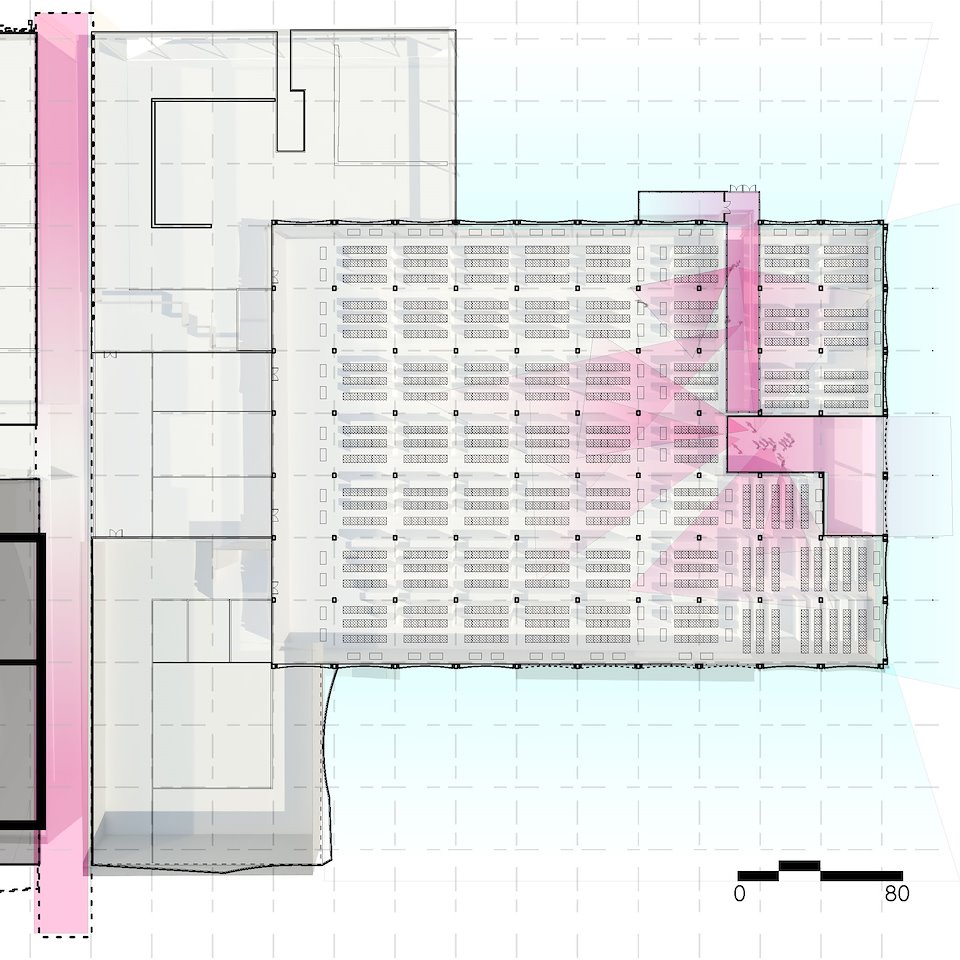 Data Center First Floor Plan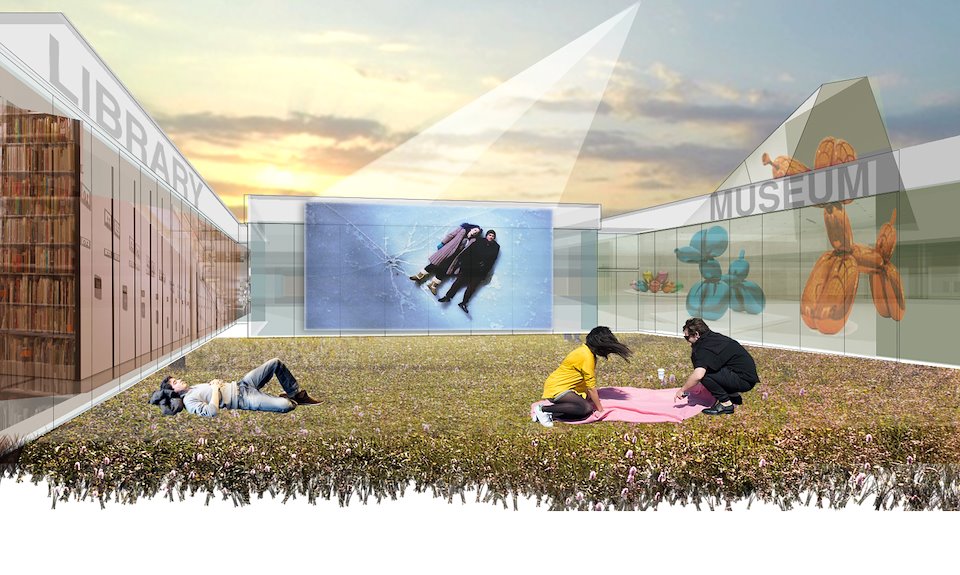 "Living Room" - public pocket between store rooms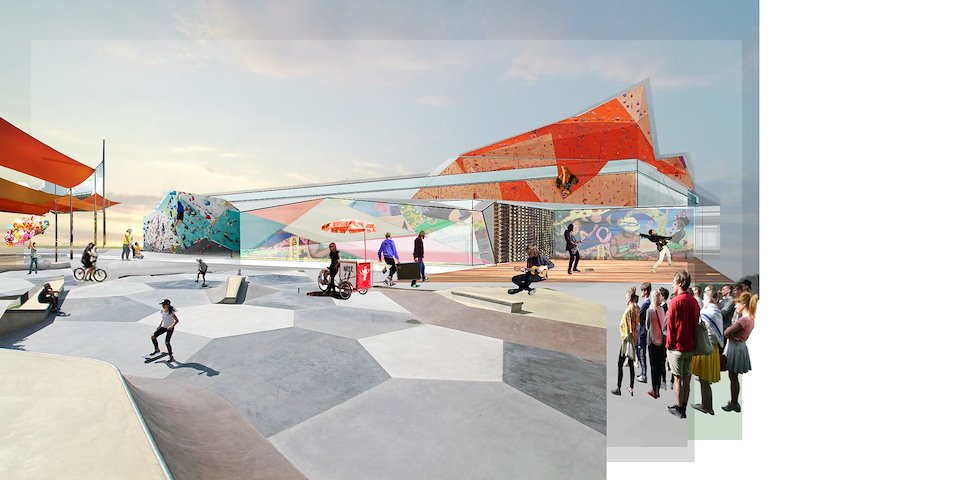 The Plaza
"Infinity Room" - Data Center public gallery
The Store House
A Prototype for Adapting the Suburban Retail Center:
The 10th Biannual 48 HRS Design Competition's theme was 'Adaptation and Innovation.' The prompt was to re-program a defunct shopping mall in metro Atlanta and submit a new design for the site.
The team's winning concept focused on the behind the scenes aspects of consumerism and the need for storage of the items we obtain, create or consume. By confronting the mundane and necessary program of storage, whose needs will only increase, we are taking agency to reorganize the sprawling landscape, invigorating a seemingly benign program and envisioning its future role interfacing more frequently with the public.
The Storehouse is a place that attracts people to a previously underused relic of a structure by creating an experience – a large park with recreational amenities and gathering spaces. By densifying the park's periphery with mixed use live/work and retail spaces, the site becomes both a feasible profit-generator and begins to meld with its surrounding fabric.
The park also starts to break down the scale of the massive building block, creating pockets that invite people to visually interact with the stored items housed in the building. These areas become "living rooms," creating communal spaces for projection, recreation, performance, meeting and open-air shelter.
Since the requirements for each storage program are so specific, the flexibility and footprint of the large empty retail center makes these structures ideal for retrofitting. The interior of the shell is easily compartmentalized with a straightforward organization while the façade of the building – the critical interface with "consumers" – becomes a customizable canvas each tenant can activate and articulate with added program, signage and other branding opportunities.
The complex also has a focus on energy production since some programs such as data centers require a tremendous amount of energy for cooling and other mechanical needs. The expansive roof can be populated with solar panels to produce some of the required energy. A double skin façade can act as a heat sink, reducing the amount of mechanical cooling necessary to keep such a facility functioning.
The building becomes a container for fluctuating pieces of storage, much like a museum has its collection changed and distributed as needed. Not only will people come back for the amenities the park offers the suburban dweller, but also to see what is new in the rotation.
| | |
| --- | --- |
| For | 48 HRS Design Competition |
| Date | 9/22/18-9/24/18 |
| URL | www.aiaatl.org/yaf/48-hrs/ |
| Project Team | Joanna Bidani, Christian Ayala, Melissa Booth, Luke Booth |